Karin Westerlund | The life of a makeup artist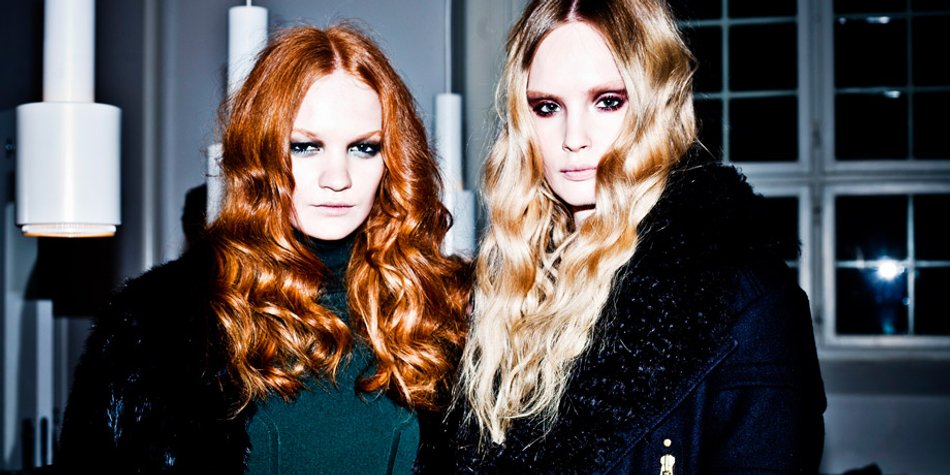 Unsere Redakteurin und Blogger-Expertin Jenny Halonen aus Schweden berichtet nicht nur von traumhaften Reisezielen oder Großstadt-HotSpots. Sie ist auch auf den internationalen Fashion Shows, wie zum Beispiel in Stockholm, unterwegs und berichtet für Sie exklusiv. Vor Kurzem traf sie sich mit Make-up-Artist Karin Westerlund, die schon für die großen Namen wie Chanel schminkte. Hier ist das Interview:
Makeup artist, the dream of many. Spending your days putting makeup on gorgeous models for luxurious fashion houses. Having the whole world as your workspace. From shooting swimwear on an exotic beach to ski wear on the top of a mountain; sounds very glamorous? It might be at some points, but it's also a lot of hard work, sweat and tears. I had a chat with my good friend and one of the top Swedish makeup artists Karin Westerlund. She reveals some of her secrets, top moments and trend tips.
Model to makeup artist
Karin was born in Stockholm, Sweden and started out as a model in her early age. Whilst modeling and traveling the world, she found her love for makeup and developed her interest for the fashion industry. Before deciding on a career as a makeup artist, Karin studied art and photography, but in the end fashion and makeup became her devotion.
From Stockholm to fashion capital Paris
In 2007 Karin moved to Paris, she left her hometown behind and decided to give her career a try in the capital of fashion. She started out assisting some of the best makeup artists in the world, building and refining her own sense of beauty and creating her own brand. She is devoted to details and her Scandinavian roots reflect in her style of work, which is flawless and minimalistic – her motto is "Less Is More". The inspiration she gathers from her own life and her interests such as art, music and films are combined in her work.
From New York, Paris, London to Milan
Karin's base is Paris, but her work takes her to any place in the world. Not only to fashion weeks in New York, Paris, Milan and London, but also to Copenhagen and many times back to her native Stockholm. She works in the teams of top names like Pat McGrath, Peter Phillips, Aaron de Mey and Charlotte Tillbury. I had a chat with Karin over some coffee and she shared a few memorable moments of her life.
Do you have any specific jobs that you like a little extra?
I really like the creative process of a good photo shoot! In general the fashion weeks in Paris are also fun, both for the shows and for all the people who are in town. I love to work the Chanel runway shows in Paris. It is amazing to have Grand Palais as your office for one day. The makeup is always very thought-through and advanced and they always have the top models on their shows. I remember a specific Chanel show a few seasons ago when all the models had gemstone-embroidered eyebrows. That became for sure one favorite.
It's always exciting to work for the big houses, especially if there is something new going on, a buzz, as for example when Hedi Slimane took over Saint Laurent, that's another favorite. Or the upcoming Balenciaga show with Alexander Wang as the Creative Director, that one will for sure be interesting.
Do you have a favorite Makeup Artist to work with?
I love working with all of them, they are all lovely and inspiring in their own way, but if I had to name one, I would say Aaron de Mey. He does great makeup, it's very inspiring to work in his team, and it's always a great atmosphere!
A future dream come true?
I would love to do a makeup line collaboration with a designer one day.
You mentioned the best shows you have been working, apart from that, any memorable magazines shoots or other jobs?
I have done fashion stories for Vogue, ZOO, Elle, Love, and Vanity Fair to name a few. It's always fun and exciting to work for the big publications. I did a shoot with photographer Paolo Roversi and Riccardo Tisci of Givenchy, for LOVE magazine. I really love everything about the Givenchy esthetics and Paolo Roversi is such a legendary photographer, so it was kind of a dream job for me!
Celebrities?
I did a shoot with Clemence Poesy, who is maybe the most famous actress I worked with. The pictures look great, but unfortunately never got published, so I can't use them. A bit annoying but still, things like that happen every now and then in this job and that's just the name of the game and nothing to do anything about!
Models?
I have worked with a lot of great girls with beautiful faces, for example Saskia de Brauw, Kinga Rayzak, Frida Gustavsson, Mackenzie Drazan, Ruby Aldridge to name a few. I recently did an editorial with the Russian model Vika Falileeva, she's doing quite a lot of runways now and I find her extremely beautiful!
The absolute funniest job you have done?
I've done so many fun jobs, it's hard to name one, but recently I was key makeup artist for J.Lindeberg's Fall/Winter 2013 show in Stockholm, and this was surely one of the most fun jobs this year! I know them quite well by now; I have been working with them since 2009.
As I did their look-book just a few weeks before, I had a good communication with the design team and time to prepare it well. I created 3 different looks, a long smokey eye in 3 different colors that matched 3 key colors from the collection: burgundy, navy and bottle green, and that also matched with the nail polish. All the colors had a bit of shimmer to make them a bit electric and elegant. The skin and lips where left nude to give coolness and a touch of Rock'n'Roll.
Name a memorable moment so far in your career!
In between the shows during Paris Fashion Week, I often do makeup for celebrities who are going to parties or sitting front row. These jobs are usually very fun and get pretty personal as there are not a lot of other people around apart from the talent, the hair-stylist and me, and it's either in a hotel or in their home. One girl who I enjoyed working with was Leigh Lezark.
Despite the short time there normally is to finish hair and makeup, there was a lot of chatting, listening to music and looking at video clips on youtube, she got ready in time anyway and looked great with pink lips and grey nails to match her Dior outfit.
You have lived in Paris since 2007, what are your favorite spots in Paris? Where can I spot you in Paris?
I love to buy flowers. I either go to the Marché des Enfants Rouge market or to L'Artisan Fleuriste. The last one is THE flower shop for special treats, great selection, presentation and wrapping. Both places are around the corner from my house. My life-saving take away food comes from Nanashi, when I don't have time to cook or I am too tired I get their bento-box to go, it's fresh and healthy.
Bars- Candelaria, they serve yummie tacos and excellent tequila cocktails. The same owners also just opened a cocktail bar called Le Glass on one of the more dodgy streets below Pigalle, but still with equally excellent drinks as Candelaria. Palais de Tokyo is my favorite museum in Paris and one of my favorite spots; they have a great terrace with a restaurant.
Last but not least…. can you give us some hot tips of the biggest trends for spring/summer 13?
Colors and graphic makeup's are in focus for this spring. For example graphic eyeliner in a bold color would be totally right, just make sure you keep it to one color at the time, so that it still looks clean!
Karin's Paris Favorites:
For flowers:
Le marché des enfants rouge - 39 Rue de Bretagne, 75003, Paris
L'Artisan Fleuriste - 95 Rue Vieille du Temple, 75003, Paris
Take away:
Nanashi - 57 Rue Charlot, 75003, Paris
Drinks and tacos:
Candelaria – 52 Rue de Santoinge, 75003, Paris
Le Glass - 7 Rue Frochot, 75009, Paris
Museum:
Palais de Tokyo - 13 Avenue President Wilson, 75116, Paris